Welcome to the brand new ASIS Online. We've redesigned our digital presence from the ground up to make it easier for members and others to discover resources from our vast database of webinars, books, best practices, articles and more as well as find and connect with like-minded security professionals from around the world.
To get started, login or create an account at the top right corner of the website (top-middle on mobile). Once logged in, you will be able to access "My Account," where you can verify that all of your account information is accurate and up to date.
You will also be able to access ASIS Connects, our new, trusted online community. You will find a shortcut at the very top of the website labeled "Community." Before exploring, create your public profile by clicking "Profile" in the dropdown menu at the top right of the page. Once you have set up your profile, browse communities and discussion posts, post a discussion of your own, and explore resource libraries you have access to. Only ASIS members will have access to the Member Resource Library, which is where you can download your free copy of each of our standards and guidelines.
Although we are very proud to unveil these new platforms and know they will transform the online experience for our members and security professionals around the world, it is still a work in progress and will require your active engagement to be the best it can be. As you begin to explore these new web properties, please send any feedback to [email protected].
Thank you and enjoy your new online experience!
Examples
The top right corner of the website (top middle on mobile), houses links to login, create an account, or join as a member. Once logged in, a link for "My Account" will be visible.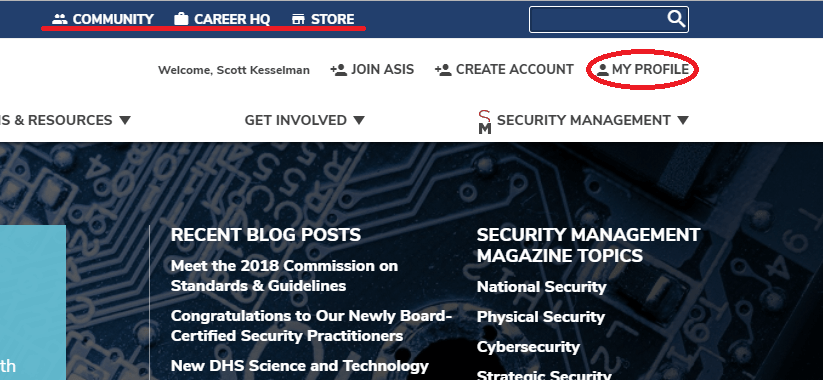 Once logged in, there will be a link to "My Account" at the top of the website where you can update your account information. There are also shortcuts at the top of the site to our new online community, ASIS Connects ("community" link), the Store, and Career HQ, where you can find and post jobs and other information to help you grow in your career.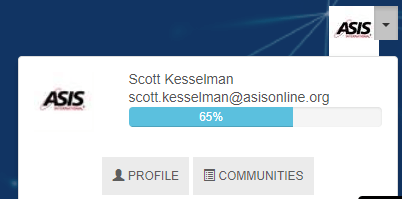 The dropdown menu at the top of the ASIS Connects website provides shortcuts to your public profile and communities you belong to.
arrow_upward