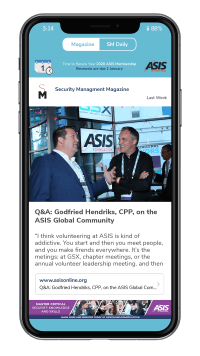 A world of security at your fingertips. ASIS International connects security professionals with the information they need to improve their security practice. Now, with the launch of the ASIS Mobile Engagement app, security professionals can tap into the wealth of ASIS member knowledge—whenever, wherever.
The app is a portal for users to access ASIS content, products, and services—including ASIS Connects, the exclusive resource library and discussion forum for ASIS members. With ASIS Connects, members can leverage the global reach of the ASIS member network to make new connections, collaborate on important industry issues, and find solutions to everyday problems.
Additional app features include daily security headlines from Security Management, Council whitepapers, Career HQ job board, quick links to upcoming events, and direct messaging capabilities. Users can also manage their ASIS memberships via the app.
Anyone can download the app and create an account, though some features—like ASIS Connects—require membership to access.
Search 'ASIS International' in the Apple App Store or Google Play to download and get started.