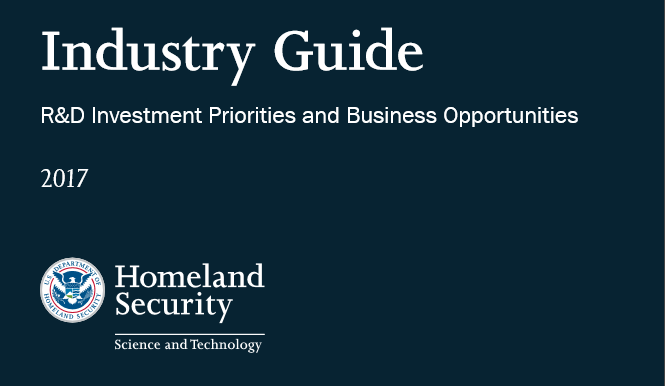 ​DHS Science & Technology (S&T) has asked ASIS to share its new Industry Guide with our members, exhibitors and partners. Released last month, the guide is the culmination of a yearlong undertaking by S&T to examine the focus of its R&D mission, where the Directorate is investing money to address challenges, and to identify partnership tools for those who wish to work with S&T. The guide contains valuable information for our members and those who wish to do business with DHS. S&T also plans to release a redesigned, more industry-friendly website in the months ahead. Learn more by reading the annoucement below.
---
The Department of Homeland Security is proud to share with you the newly developed Science & Technology (S&T)Industry Guide. The Office of Public-Private Partnerships (P3) has created a guide that gives a detailed description in communicating to industry what the specific technology​ needs are for DHS, the areas where S&T will invest funding, and provides direction to innovation communities on how to do business with S&T. At S&T, our goal is to build stronger, more effective partnerships with the private sector to help further the security posture of our Homeland.
S&T collaborates with the private sector across all stages of the R&D lifecycle in three main focus areas:
Discover

– Finding great technology that is being developed.

Develop

– Partnering with the private sector to develop new technology and incentivize existing efforts to include homeland security requirements in technology development.

Transition

– Working with manufacturing and supply chain partners to help deliver new technology solutions to homeland security operators.
The Industry Guide is located on the S&T website and stay engaged with us via email, tweet, or post on Facebook (Search: dhsscitech)​
Questions? Contact S&T's Industry Liaison at: [email protected]
arrow_upward