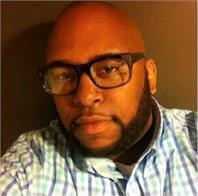 Hello, my name is Clarence Ford and I'm the newest addition to the Membership/Volunteer Engagement team at ASIS. I serve as the primary liaison for council related programs, activities, and work closely with the CVP's and ASIS staff liaisons.
My background in Volunteer Relations started in 2011 when I served as the Chapter Relations Manager for the American Society of Interior Designers, providing chapter development programs to help support the health of chapters.
Prior to joining ASIS International, I worked at the American Society of Association Executives as the primary liaison to councils and committees. I enjoy working with volunteers because it gives me the opportunity to be a resource and tool for them, to further help the mission of the association and it also opens the door for me to meet some of the most brilliant "thought leaders" in the industry.
A little fun fact about me: I am a true foodie in every sense of the word and I enjoy traveling to go on food adventures. If you enjoy ribs - I mean really enjoy ribs - here is my sticky ribs recipe that will be a sure hit at your next event or family dinner.
1 slab of pork ribs
2 tbsp of Olive oil
1 small onion
2 tbsp of minced garlic
2 tables spoon garlic
1/2 tsp of red pepper flakes
1 tsp of fennel seeds
2 tbsp dark brown sugar
2 tbsp of yellow mustard
2 tbsp of honey
2 tbsp of soy sauce
2 tbsp of nature seasoning
4 tbsp of rice vinegar
1. Using a knife, take off the excess skin from the back of ribs (a paper towel is useful to help you grip the excess skin).
2. Then rub the ribs with the olive oil and rice vinegar.
3. The rest of the ingredients will serve as a rub for the ribs that you will let marinade for 20 to 30 minutes covered in room temperature (be sure to finely chop the onion).
4. Set your oven temperature to 275 degrees Fahrenheit and bake the ribs in a covered toaster pan for 2 hrs. After the two hours has passed (you can apply bbq sauce to them but it's optional).
5. Increase the oven temperature to 350 and allow the ribs to bake for another 35 to 40 minutes.
6. Sit back and wait for your guests to tell you how perfect your ribs taste.
arrow_upward