It is with profound sadness that we announce the passing of ASIS International past President and former Chairman of Securitas Services USA, Inc., Don W. Walker, CPP.
Walker was a leader and legend within the security profession. In addition to serving as President of ASIS, he was one of the co-founders of the ASIS CSO Roundtable and also served as President of the CSO Center. Walker's commitment to building community and knowledge within the security profession was steadfast as he was active in ASIS International, for four decades.
Each year, ASIS International recognizes leadership efforts within the security profession, and named an award after Don for his lifetime of achievements. The Don Walker CSO Center Security Executive Award recognizes a senior level executive who demonstrates commitment to security management, certification, and standards and guidelines for the executive management level of security.
According to former President of ASIS International and past recipient of Walker's namesake award, Raymond T. O'Hara, CPP, "Don is the leading figurehead in our industry and has been for years. President of BRI, President of ASIS, President of Pinkerton, and Chairman of Securitas. Besides that, he was a wonderful person, husband, mentor, and a great friend."
Don's daughter, Ann Marie Walker, read the many comments about her dad's passing on LinkedIn and asks for your help in please sharing the vast friendships, memories, anecdotes, thoughts, and pictures you may have so that she can then compile and share with her family, children and grandchildren now and in the years to come. Please send to Ann Marie at [email protected].
We were truly blessed to know and work with him, and his legacy and contributions to the security profession will live on for years to come.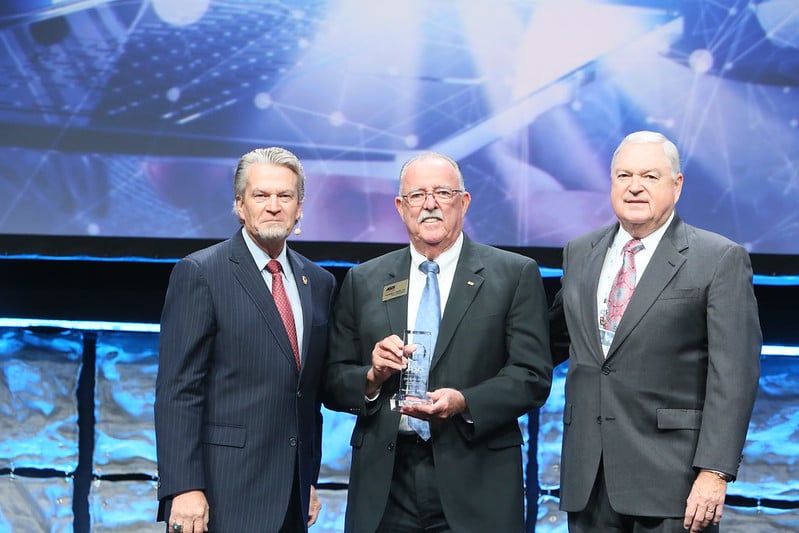 Pictured: Don W. Walker, CPP (right) recognizing Raymond T. O'Hara, CPP (center), the 2017 recipient of Don Walker Award for Enterprise Security Executive Leadership alongside David C. Davis, CPP, 2016 President, ASIS International
arrow_upward