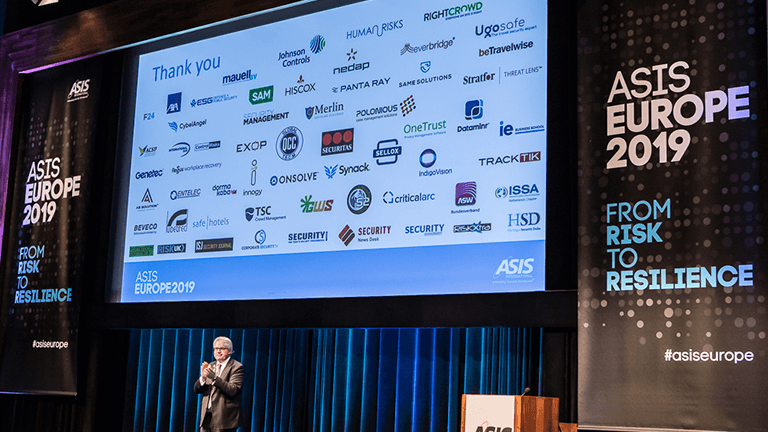 ASIS Europe 2019—From Risk to Resilience attracted more than 900 attendees and 45 vendors from 60+ countries – the most attendees and exhibitors of any ASIS European conference to date. ASIS Europe was held in the lively port town of Rotterdam, Netherlands on 27-29 March and provided a scenic backdrop for security industry leaders to discuss the management of security initiatives and future industry trends.
Framed by plenary sessions addressing community resilience and digital transformation, the conference delivered a broad range of germane security, business, and leadership topics. ASIS President Christina Duffey, CPP, and conference chair Eduard Emde, CPP, presided over the proceedings.
The conference kicked off with keynote addresses by Amsterdam's Innovation Program Manager Theo Veltman and Rotterdam Chief Resilience Officer Arnoud Molenaar, who discussed how these municipalities strive to create safe and resilient digital cities through climate resilience, sustainable power, and water quality.
Veltman pointed out that the success or failure of a digital city depends on whether the public accepts it. For example, citizens of Singapore have pushed back on the profusion of video cameras in the public sphere. Veltman stressed the importance of making cities livable and not too constrained. "If you don't know your environment and you don't know your people, you've got nothing," he said.
Six educational tracks were available addressing a variety of themes and engagement types: two leadership tracks, a leadership training track, a professional track, an innovation track, and a career center. For example, the four Enterprise Security Risk Management (ESRM) sessions were assigned different tracks due to subject matter and approach:
Fundamentals class (professional track),
ESRM Skills Cocktail (career center track),
Engaging Business Executives in ESRM (leadership track), and
Bring It to the Board Room: ESRM Presentation Training (leadership training track).
In the latter, a 95-minute interactive exercise, attendees divided into teams to present on various security issues—such as corporate espionage, cyber security, and workplace violence—to members of a rambunctious C suite.
Other educational highlights include a discussion of how Volkswagen uses tethered drones to prevent spying on its vehicle prototypes, a case study of how Innogy converged its cyber and physical security functions, a fake-news crisis management exercise, combined cyber-physical-human threat response training, and a "live case study" of young professionals in security.
In the closing plenary, presenters probed audience members on their views and adoption of digital transformation. Live polling on the ASIS Europe app triggered facilitated audience discussion on obstacles to, and the value of, digital transformation.
Multiple social events gave ample opportunity for attendees to network. These events included a welcome party sponsored by access control provider Nedap, a Women in Security breakfast, Young Professionals meetups, a CSO Center executive lunch, and a President's Reception at the Wereldmuseum sponsored by Johnson Controls.
Next year's ASIS Europe will be held in Prague, Czech Republic, from 1-3 April 2020. To learn more, visit asiseurope.org.
arrow_upward