Allison Sands shares her recap of this free and exclusive webinar to ASIS members. Learn where and how DEI perspectives and initiatives intersect in promoting female leadership and contribute to tangible and intangible ROIs for businesses and watch the webinar On-Demand here.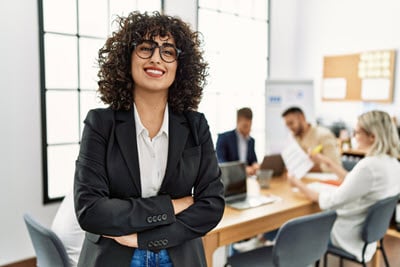 Women are underrepresented in leadership positions in almost every industry. Only 5.5% of CEOs among 3,000 of the largest U.S. companies are women, and only 33 women held CEO positions at a Fortune 500 company in 2020. Only 12% of board seats in North America are held by women, and of that, only 3% by women of color. Security is no exception, and in fact, women make up only an estimated 7% of security positions, a number that likely gets smaller in leadership positions. Women in the male-dominated security industry often have to "hustle for our worth," often feeling the need to outperform our male counterparts to have an equal chance at career opportunities and advancement.
Susan Freeman, CEO of the Conscious Inclusion Company, postulates that this is a consequence of the muted group theory, which states that the people who created the system we operate in did so within their own language. Overtime, as women and minorities entered leadership ranks in greater numbers, speaking the same language and challenging the status quo presented challenges.
However, women in leadership roles are more than a "nice to have" - they are good business. Research consistently demonstrates that there is real financial value in investing in women. Women-owned businesses are growing twice as fast as other types of businesses, and according to First Round Capital, female-led startups generate 63% more returns than all-male founding teams. Studies show gains of 34% increase in profit margins, 16% return on sales, improved problem solving capabilities, increased innovation and more, when companies invest in women leaders.
Why do female leaders tend to outperform their male counterparts? Freeman suggests that women are better at risk assessments, more discussion-oriented, and are overall better communicators. Women engage regularly in transformational leadership more than in hierarchical leadership. Transformational leadership serves to enhance the motivation, morale, and job performance of followers through a variety of mechanisms; these include connecting the follower's sense of identity and self to a projectand to the collective identity of the organization; being a role model in order to inspire them and to raise their interest in the project; challenging followers to take greater ownership for their work, and understanding the strengths and weaknesses of followers, which allows the leader to align followers with tasks that enhance their performance.
Amy Wong, communications coach extraordinaire and founder and CEO of Always on Purpose, explains why communication is key to trust, and why trust is key to good leadership. Gender differences in communication styles predominantly affect women, who are conditioned to be kind, soft, and tend to ask more questions compared to their male counterparts who are expected to be natural to be direct, assertive, outspoken. Communicating effectively, and subsequently building trust, is a critical skill needed to challenge the status quo. Thankfully, Wong is here to help us do just that.
There is a natural overlap between advocates for women in security groups and those advancing their company's diversity, equity, and inclusion initiatives (DE&I). Women are just one of many underrepresented groups in leadership ranks, and DE&I initiatives go beyond by seeking to address complicated issues of intersectionality. A core concept is unconscious bias, which is often defined as prejudice or unsupported judgments in favor of or against one thing, person, or group as compared to another.
More than just a good idea, unconscious bias impacts hiring, development, and the overall bottom line of a business. Bringing awareness to the existence of unconscious bias, both in ourselves and in our businesses, is critical to countering its negative effects in employees and businesses alike. Stefanie Drysdale (Vice President of Cyber at Prescient), and Alicia Domingos (Senior Manager, Global Programs at eBay), share their insights into what unconscious bias is, how it undermines trust, and how it hurts businesses. Drawing from their own experiences rising through the ranks in the security industry, Drysdale recommends that hiring managers look at where the talent is, where it's coming from, and how it's presenting, and recognize that talent doesn't always come from a traditional, linear journey. To know talent when you see it, and to continue to attract top talent into your organization, Domingos highlights that communication once again is key - not just talking but listening and hearing too. A great resource to shine a light on your own unconscious bias is the Harvard Implicit Association Test.
Only 1 in 4 organizations say advancing women is a top 10 business priority for their company. Is your company one of them? Challenge your assumptions and expand your mind with our panel of experts, available for ASIS members On-Demand and for free here.
arrow_upward