Contingency & Business Continuity Planning to Survive Active Shooter Incidents
This presentation focuses on life preservation and business continuity, regardless of the entity. Presented by Hector Sanchez, President & Lead Consultant of Holistic Secured Operations, Inc.
Earn up to 1 CPE Credit
For almost a decade now, the number of incidents had outnumbered the days in the calendar by 33%. In 2018, there were three active shooter incidents in under a span of 24 hours with casualties dead and triple the amount injured. According to the Department of Commerce, Small Business Administration, and FBI, more than one-third of entities do not survive. Business Continuity and Disaster Recovery Plans are not robust and thorough enough to provide the blanket required by organizations to survive such disastrous incidents that appear not to have an end in sight any time soon. The theme and purpose of the presentation is on life preservation and business continuity, regardless of the entity.
Learning Objectives
Upon completion, participants will be able to:
Tangible takeaway on the Policies, Procedures, and Protocols that are expected to be in place, before any Workplace Violence or Active Shooter incident happens. The specific language and focus expected to provide employees the guidance expected shall an incident were to take place.
The technology, tools, and techniques expected to reinforce the operational infrastructure in order to create a safe, protected, and secured environment.
The external considerations to have in place at the moment of a crisis and considerations after the incident; how to survive it.
President & Lead Consultant
Holistic Secured Operations, Inc.
Hector Sanchez has 30+ years of experience in Telecommunications and Operational Security worldwide. His US Army service spanned more than 10 years during which he supported Special Operations, NATO, and regular units in Latin America, Europe, Asia, Middle East, and the USA. After leaving the Army, Mr. Sanchez remained in the security and telecommunications arena professionally. His career trajectory has included being responsible for the operational security and telecommunications efficiency and effectiveness at organizations like AT&T Wireless Services in Miami, ImpSat Fiber Networks, Florida Lottery, Lucent Technologies, Alcatel-Lucent, and Nokia. Currently. Mr. Sanchez spearheads Holistic Secured Operations, Inc. that specializes in operational security.
Cancellation and Transfer Policy
For a full refund or transfer credit, written requests must be received by ASIS at least three business days before the start date of the program. Those received less than three days prior will be charged a $25 cancellation/transfer fee.
Transfers will be limited to a maximum of two per original registration. No refunds or transfers are made for requests received on or after the start date. Contact us or fax your request to ASIS Member Services at +1.703.519.6298.
Please note that online subscriptions and downloadable products are nonrefundable, nontransferable.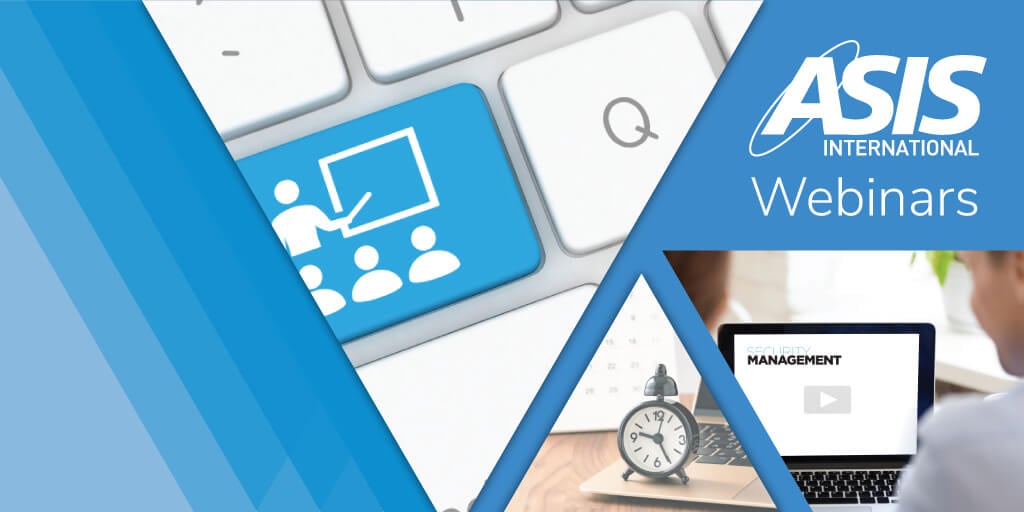 Anytime, Anywhere Learning
Build your know-how and stay up-to-date right from your desktop or mobile device, 24/7. ASIS webinars offer insightful perspectives and expertise on the latest security issues, all year long. Webinars are ideal for individuals and team training and are available both live and on-demand (most also offer CPEs).
arrow_upward