Turnstiles 101 - Designing and Implementing a Pedestrian Entrance Control System

location_on Online Learning
Now available on demand | Earn up to 1 CPE CREDIT | $0 cost for Webinar Subscribers
The history, background, benefits and features of pedestrian entrance control systems such as turnstiles, portals, and security revolving doors will be explored and reviewed. Methods for selecting between such systems and their various features and options will be investigated. The presenters will discuss risk assessment. budgeting, internal decision processes, ROI justification, and helpful external resources for selecting and employing such a system in your campus or building.
Sponsoring Council: Physical Security Council
Upon completion, participants will be able to:
Explain the importance of Risk Assessment in Pedestrian Entrance Control Design
Understand the types and features of pedestrian entrance control systems
Select the best type of technology to use for their design, based upon site conditions, client security policies, and architectural concerns
Discern between the newest authentication technologies (biometrics, QR codes, Bluetooth, etc.) and their integration with PEC's.
Determine the ideal number of passage points (lanes) for their application depending on building/campus population, security goals, authentication technologies to be integrated.
Recommend an entrance control system based upon such concepts as UL, IP, MCBF and warranties
Find additional resources for help and reference to be used when designing such a system (i.e. ASIS ANSI/ASIS/RIM Risk Assessment Standards)
Mike has nearly 20 years' experience developing, designing and integrating pedestrian entrance control systems (turnstiles, portals) working with end users, architects, integrators and security engineer consultants. His extensive portfolio of work includes hundreds of architectural optical turnstile systems at many of the USA's most iconic and recognizable buildings and campuses. He is a frequent author on the subject of access control and turnstiles, having been published by many security trade journals such as Security Today, Security Products, Government Security News, and American Security Today.. He is a Regional Sales Manager for Automatic Systems.
Jeffrey A. Slotnick, CPP, PSP
President
Setracon Enterprise Security Risk Management Services
Senior Consultant
Guidepost
Jon Harris has 15 years of experience in physical, technical, and operational security program design, development and deployment. He applies a risk-based and solution-oriented approach to his work, partnering with clients to ensure value-add outcomes. With experience leading multifaceted, global compliance organizations, Mr. Harris developed the ability to distill complex challenges into manageable program components, allowing for sustained and repeatable successful results.
Mr. Harris has particular expertise in applying Physical Security System design elements to related compliance requirements. He has in-depth experience with workplace violence and active shooter prevention program development. Mr. Harris' diverse background and experiences offer Guidepost customers an excellent asset for developing, assessing or maturing their security programs.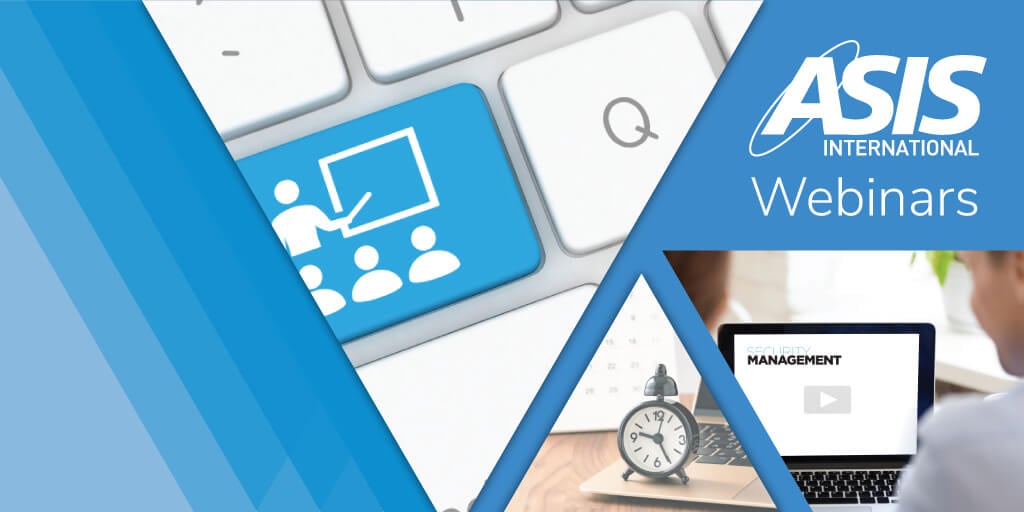 Anytime, Anywhere Learning
Build your know-how and stay up-to-date right from your desktop or mobile device, 24/7. ASIS webinars offer insightful perspectives and expertise on the latest security issues, all year long. Webinars are ideal for individuals and team training and are available both live and on-demand (most also offer CPEs).
Cancellation and Transfer Policy
For a full refund or transfer credit, written requests must be received by ASIS at least three business days before the start date of the program. Those received less than three days prior will be charged a $25 cancellation/transfer fee.
Transfers will be limited to a maximum of two per original registration. No refunds or transfers are made for requests received on or after the start date. Contact us or fax your request to ASIS Member Services at +1.703.519.6298.
Please note that online subscriptions and downloadable products are nonrefundable, nontransferable.
arrow_upward