Travel Safety and Security for Traveling Abroad

location_on Online Learning
Now available On Demand | Earn up to 1 CPE CREDIT | $0 cost for Webinar Subscribers
Individuals from all parts of the globe look to broaden their outlook and obtain a sense of adventure when traveling abroad for either vacation or business purposes. Unfortunately, travelers from different cultures find themselves as targets to aggressors who excel at studying vulnerable targets. This webinar will examine statistics and safety and security techniques that will keep travelers safe until returning home.
Sponsoring Council: Crime Prevention Council
Topic(s): Crime;Physical & Operational Security;
Learning Outcomes:
Upon completion, participants will be able to:
1. Identify the growing threats facing individuals traveling abroad
2. Pre-travel safety and security preparation.
3. Security awareness techniques and best practices.
Presenter:
Matthew Porcelli, CPP has been in the private security sector since 2009. Matthew started as a security officer and quickly worked his way up to security supervisor in 2011. In 2014 Matthew became a Security Operations Manager at Newark Liberty International Airport where he and his security agents were responsible for the contracted security services for eight international airlines. Working alongside the Department of Homeland Security and the Port Authority of New York and New Jersey, he has been involved with emergency and table top exercises and trained aviation security agents. After his work at Newark Airport, Matthew remained as a Security Operations Manager overseeing 57 client locations across Northwestern New Jersey ranging from global headquarters to executive protection details. Matthew currently works as a Security Manager NJ where he oversees a security team providing security to a property management. Matthew received his Master's Degree in Administration of Justice and Security from the University of Phoenix in 2014 and his Certified Protection Professional (CPP) in 2016. Matthew serves in various roles on four councils with ASIS International: The Young Professionals Council, the Cultural Properties Council, the Global Terrorism/Political Instability/International Crime Council, and the Crime and Loss Prevention Council.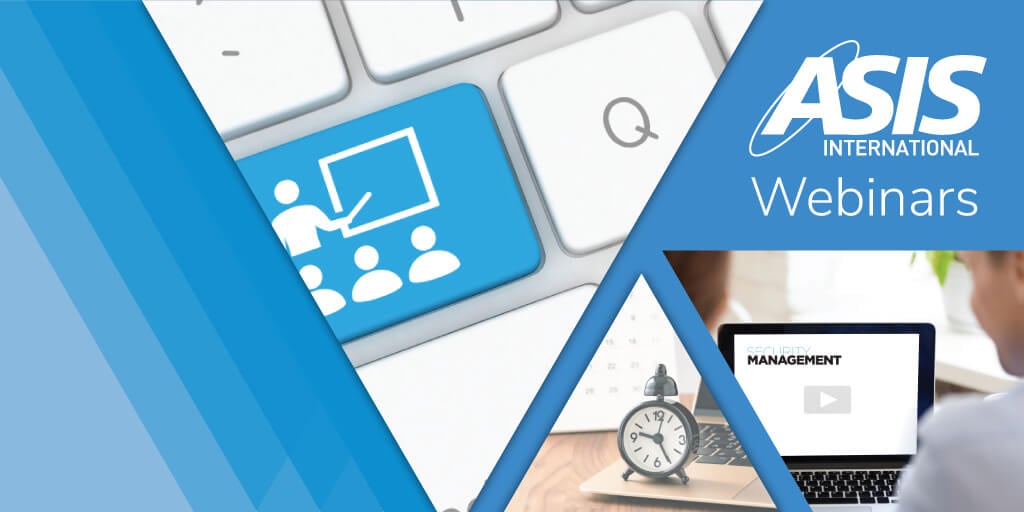 Anytime, Anywhere Learning
Build your know-how and stay up-to-date right from your desktop or mobile device, 24/7. ASIS webinars offer insightful perspectives and expertise on the latest security issues, all year long. Webinars are ideal for individuals and team training and are available both live and on-demand (most also offer CPEs).
Cancellation and Transfer Policy
For a full refund or transfer credit, written requests must be received by ASIS at least three business days before the start date of the program. Those received less than three days prior will be charged a $25 cancellation/transfer fee.
Transfers will be limited to a maximum of two per original registration. No refunds or transfers are made for requests received on or after the start date. Contact us or fax your request to ASIS Member Services at +1.703.519.6298.
Please note that online subscriptions and downloadable products are nonrefundable, nontransferable.
arrow_upward