How to Conduct a CPTED Site Assessment in 2019 and Beyond

location_on Online Learning
Earn up to 1 CPE CREDIT | $0 cost for Webinar Subscribers
Note: This presentation was originally conducted 15 May 2019. Original registrants are eligible to participate on this program date, as well as access the post-webinar recording with no additional fee. For convenience, original registrants will be automatically registered for the rescheduled webinar. 1 CPE credit eligible upon completion.
Situational and environmental crime-control measures, such as crime prevention through environmental design (CPTED), can help deter would-be criminals. But how do you assess your site for vulnerabilities best addressed through CPTED?
This webinar will explain the theory behind CPTED and give examples of applications to correct issues. See real life examples from two experts in the field of CPTED and get solutions you can use.
Sponsoring Council: School Safety & Security Council and International Foundation for Protection Officers
Learning Outcomes:
Upon completion, participants will be able to:
Explain the concept of CPTED
Describe the relationship between architectural designs and crime prevention
Apply recommended solutions
Presenters:
Marianna A. Perry, M.S., CPP, CPOI has 35+ years of progressive experience in law enforcement, physical security, safety and loss control. Marianna received her B.A. Degree from Bellarmine University and her Master's Degree from Eastern Kentucky University. She is a safety and security consultant and is a frequent presenter at the annual ASIS International Seminar. Marianna is a former trooper and detective with the Kentucky State Police and was previously the Director of the National Crime Prevention Institute (NCPI) at the University of Louisville. She is a member of the ASIS International School Safety and Security Council.
Lawrence J. Fennelly, CPOI, CSSM was the 2015 recipient of the ASIS President's Award for "many years of encouraging and mentoring security professionals as potential writers and authors, especially women and young professionals. These efforts, as well as your own publications, have positively affected the security Body of Knowledge. Your vision and work toward an annual Security Book of the Year Award was fulfilled with the 2014 inaugural award and this year's second one."
Marianna Perry and Lawrence Fennelly's latest books as co-authors are: CPTED and Traditional Physical Security Countermeasures, 150 Things You Should Know, 2018, Investigations: 150 Things You Should Know, 2nd Edition, Security: 150 Things You Should Know, 2nd Edition, and Physical Security: 150 Things You Should Know, 2nd Edition.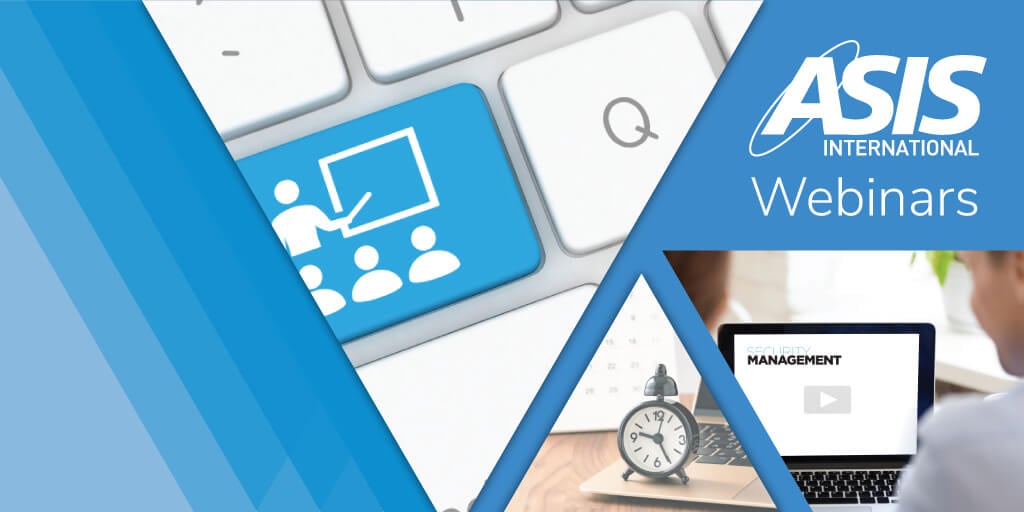 Anytime, Anywhere Learning
Build your know-how and stay up-to-date right from your desktop or mobile device, 24/7. ASIS webinars offer insightful perspectives and expertise on the latest security issues, all year long. Webinars are ideal for individuals and team training and are available both live and on-demand (most also offer CPEs).
Cancellation and Transfer Policy
For a full refund or transfer credit, written requests must be received by ASIS at least three business days before the start date of the program. Those received less than three days prior will be charged a $25 cancellation/transfer fee.
Transfers will be limited to a maximum of two per original registration. No refunds or transfers are made for requests received on or after the start date. Contact us or fax your request to ASIS Member Services at +1.703.519.6298.
Please note that online subscriptions and downloadable products are nonrefundable, nontransferable.
arrow_upward