2020 CSO SUMMIT
CSO Influence: Leading in Uncertain Times

location_on Washington, DC
2020 CSO Summit | 18-19 May | Washington, DC | National Press Club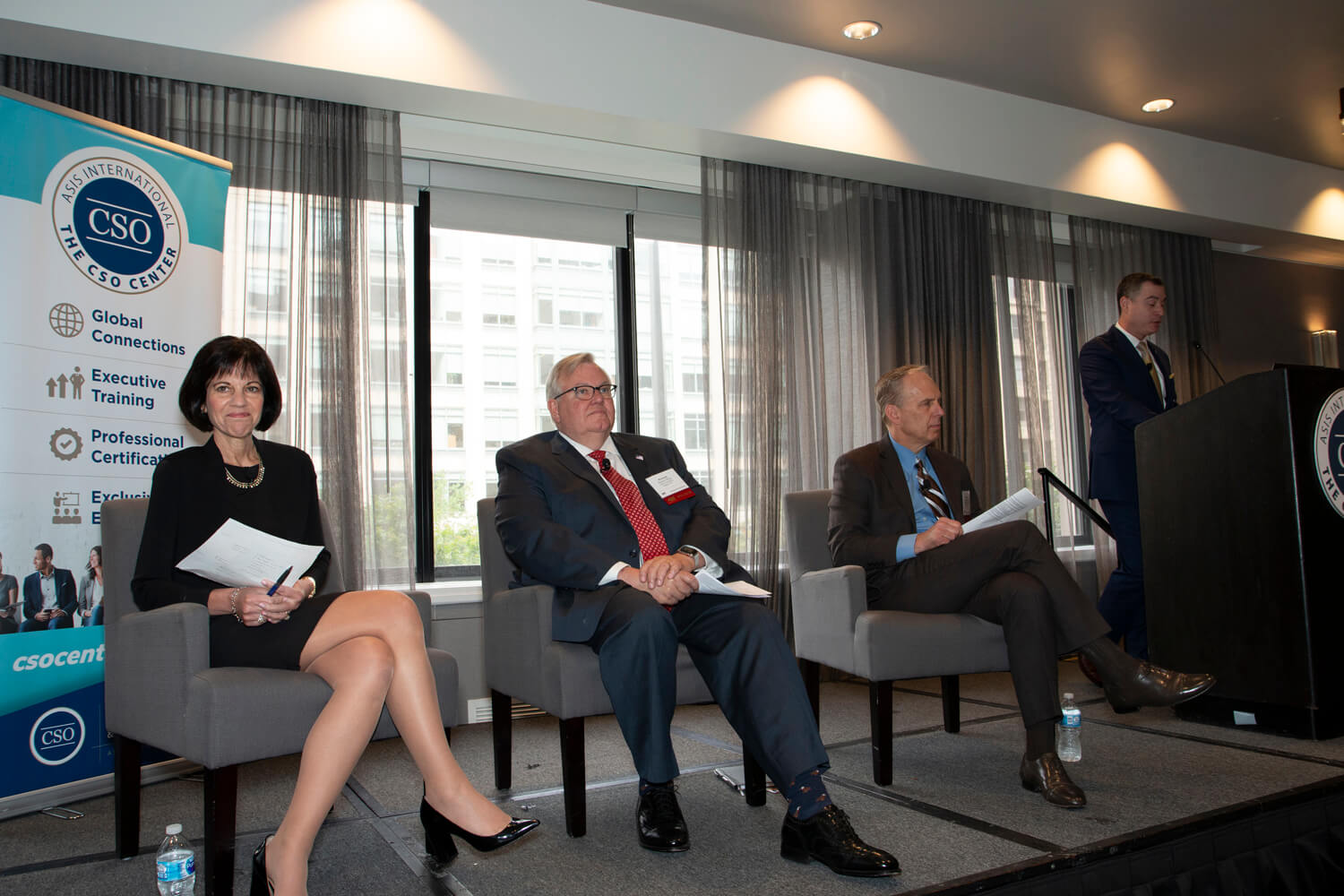 The role of today's Chief Security Officer is changing in extraordinary ways. In addition to assessing risk across the enterprise and supply chain, it is essential for the CSO to engage and advise executive leaders on best practices and SOPs for business continuity and strategic leadership in all disciplines.
Join leading security executives from the largest and most influential organizations for two days of intensive idea sharing, problem solving, and relationship building you won't want to miss!
Note: This event is open only to CSO Center members and those who are eligible for CSO Center membership. Please see www.csocenter.org for eligibility requirements.
View the 2019 CSO Summit Executive Summary
2020 CSO Summit Co-Sponsors
Note: This event is open only to CSO Center members and those who are eligible for membership.
CSO SUMMIT POLICIES
By registering for CSO Summit 2020, you consent to ASIS International's collection and storage of the data on the registration form.
Registration and attendance at or participation in ASIS International meetings and other activities constitutes an agreement by the registrant to ASIS's use and distribution (both now and in the future) of the attendee's image or voice in photographs, videotapes, electronic reproductions, or audiotapes of such.
CANCELLATION POLICY
To receive a refund, all cancellation requests must be made 10 days in advance in writing and submitted to CSO Summit Registration at accounting@asisonline.org (by 8 May 2020). Cancellations received after 8 May will be subject to a $100 administrative fee. No refunds will be given after the start of the event.
HOTEL RESERVATIONS
JW Marriott Washington D.C.
1331 Pennsylvania Avenue, N.W.
Washington, DC 20004, US
A block of rooms at the JW Marriot has been reserved for CSO Summit attendees at a special rate of $329/night (plus tax). Book your room today.
Reservation Deadline: Monday, 13 April
Book early! We have a very limited room block.
---
QUESTIONS?
For questions regarding registration, please contact Member Services at asis@asisonline.org or 703.519.6200.
For questions regarding the CSO Center, program content, speakers, and events, please contact Carla Lochiatto carla.lochiatto@asisonline.org or +1.703.518.1500.
The CSO Summit is an exclusive, invitation-only event that brings together the global community of chief security officers and their deputies to explore a wide variety of critical issues and compare approaches and strategies to best prepare for an uncertain future.
Summit key themes:
Risk Management in a Word of Constant Volatility
Global Talent Management—From Hiring and Retaining to Wellness and Mitigating Stress
The Analytics Factor: Making Sense of Multiple Inputs
External Forces: Anticipating Dynamic Global Change, The Evolution of the Threat Landscape
Sunday, 17 May 2020
6:00 – 7:30 pm Participants arrive and check-in (Hospitality Suite Open)
Monday, 18 May 2020
7:00 am – 3:30 pm Registration and Information Desk Open
7:30 – 10:00 am Continental breakfast, Welcome, Opening Keynote
Leading in an Age of Constant Volatility: A Forecast of Geopolitical and Security Risk
Facilitated group discussion about key threat areas
10:00 – 10:30 am Break
10:30 am – 12:15 pm Presentations and Scenario Discussions
The Role of Data Analytics in Making Critical Enterprise-Wide Decisions
Threat Through the Cyber Lens: The CSO/CIO Partnership
Craig Maccubbin, EVP & CIO, WestJet Airlines in moderated conversation with Scott Lowther, CPP, PetroChina
12:15 – 1:15 pm Networking Lunch
1:30 – 2:15 pm Talent Management: Success from the Inside Out
Sarah J. Powell, Temple University, Mitigating Stress in Security
2:15 – 3:30 pm Panel of CSOs in a Facilitated Discussion: Practical Ideas for Hiring and Retaining Talent
3:30 – 4:00 pm Break
4:00 pm Fake News: Real Threats
Jeremy Plotnick, Assistant Professor, George Mason University School of Business
5:00 – 8:00 pm Reception and Evening Event
Tuesday, 19 May 2020
7:00 am – 3:00 pm ASIS Registration and Info Desk Open
7:30 – 8:00 am Continental Breakfast
8:00 – 8:30 am Opening and Review Monday's highlights
8:30 – 10:00 am Preparing for Disaster on a Global Scale: A Playbook for Sustainable Operations
From the Olympic Games to the FIFA World Cup, hear about worst-case scenario planning from experts who have firsthand experience managing large international events. Through these lenses, consistent approaches to managing crises will emerge, as well as an understanding of current preparedness and response practices from specific events.
Edgar Moreno, Vice President, Global Security, NBC Universal, Telemundo Enterprises and Latin America
Philip J. Walker, Major Events Program Lead, Overseas Security Advisory Council (OSAC) Bureau of Diplomatic Security, U.S. Department of State
10:00 am – 10:30 am Break
10:30 am – 12:30 pm Presentations and Scenario Discussions
Risk Management in a World of Constant Volatility
The Growing Important of Risk Intelligence in the Security Strategy and Planning Process
Panelists:
Andy Teskey, Risk Management and Business Continuity Expert with PetroChina
Courtney Adante, President, Teneo Risk Advisory
12:30 – 1:30 pm Working Luncheon
2:00 pm Global Intelligence Threat
Bill Evanina, Director of the National Counterintelligence and Security Center (invited)
3:00 pm Adjourn
Current list of presenters for the ASIS International CSO Summit includes:
Courtney Adante, President, Teneo Risk Advisory
Ms. Adante advises clients in the areas of security risk management, emergency planning, and crisis response. Her specialty is overseeing large-scale transformation programs for CSOs, CISOs, and CEOs which includes holistic security assessment and strategy programs, security organizational design, crisis management, and incident response and training.
Craig Maccubbin, EVP & CIO, WestJet Airlines
Mr. Maccubbin brings C-suite experience from multiple organizations including Blockbuster and Southwest Airlines, as well as his current role of EVP & CIO for WestJet Airlines. His broad industry background covers travel and transportation, media and entertainment, retail, telecommunications, insurance, financial, and manufacturing and logistics. Maccubbin is well-versed in the strategic use of technology to enter new markets, as well as leading teams both small and large.
Edgar Moreno, Vice President for Security for Latin America and Telemundo Enterprises, NBC Universal
Since 2017, Mr. Moreno has been working for NBC Universal Global Security as the Vice-President for Security for Latin America and Telemundo Enterprises based in Miami, Florida.
Before that, he worked for seven years with the Coca-Cola Company in the Strategic Security Department and oversaw security operations for Latin America and their activities related to Major Event sponsorships to include the 2014 Brazil FIFA World Cup, and 2016 Rio Summer Olympics.
Jeremy Plotnick, Assistant Professor, George Mason University School of Business
Mr. Plotnick is a professional communicator with 20 years of professional experience in corporate, marketing, and crisis communications in the U.S. and Asia-Pacific, adding value to organizations through corporate reputation enhancement, issue identification, and crisis resolution. In his career, he has held multi-cultural leadership roles in communications consultancies and a major multinational corporation.
Sarah J. Powell, Director of Emergency Management, Temple University
Ms. Powell provides strategic direction, subject matter expertise, and operational coordination for Temple University's emergency management and mission continuity programs. The scope of her work includes critical incident management, emergency operations, and mission continuity planning, as well as risk assessment and mitigation.
Bonus: Read an article Sarah Powell wrote for Security Management on team wellness.
Andy Teskey Manager Risk Management—PetroChina Canada Ltd.
Mr. Teskey started at PetroChina Canada as a Corporate Planner/Scheduler, became a Project Manager in the oil sands and R&D departments and has been the Risk and Business Continuity Manager for the past three years. He has been instrumental in designing and implementing an Enterprise Risk Management and Business Continuity Management System within the company and provides training at all levels from the shop floor to the C-Suite.
Philip J. Walker, Major Events Program Lead, Overseas Security Advisory Council (OSAC), Bureau of Diplomatic Security, U.S. Department of State
At OSAC, Mr. Walker leads a team of analysts who provide security guidance and information to U.S. companies and organizations involved in larger international events, including the upcoming Tokyo Summer Olympics. Past major event support has included the FIFA World Cup in Brazil and Russia, and both Winter and Summer Olympics in PyeongChang and Rio de Janeiro, as well as the Pan American Games in Peru, among others.
ASIS International Event Code of Conduct
ASIS International ("ASIS") is committed to providing a safe and welcoming experience for all event participants as defined below.

Any participant regardless of:
Race or ethnicity
Disability
Religion or political affiliation
Gender, or gender identity or expression
Sexual orientation, or
Any other distinguishing characteristic
should feel welcome and safe at any ASIS event.

Expected Behavior
This Code of Conduct applies to all event attendees, presenters, exhibitors, sponsors, vendors, contractors, other service providers, and ASIS staff ("participant") at any event, meeting, conference, forum, social event, or meeting-related event, including those sponsored by organizations other than ASIS but held in conjunction with ASIS events in which they participate (an "event"). As such, ASIS expects that participants at events will:
Remain positive and welcoming to others
Recognize that an event is a place for diversity of thought, organization, and individuals
Be inclusive of others
Be alert and report any discriminatory, harassing, aggressive, or exclusionary behavior or speech immediately to the contacts set forth below
Respect the specific rules and policies of the event, and
Otherwise uphold the reputation of ASIS
Unacceptable Behavior
Unacceptable behavior includes, but is not limited to:
Intimidating, threatening, harassing, abusive, discriminatory, derogatory, or demeaning conduct
Inappropriate physical contact (e.g., unwelcome sexual advances, groping, sexual assault);
Physical stalking or written, verbal, or other abuse, or
Inappropriate use of nudity and/or sexual images or language in event presentations, or otherwise failing to obey any rules or policies of the venue or ASIS.

Whether such behavior constitutes unacceptable behavior as defined above shall be determined by ASIS and its representatives, in their sole discretion. ASIS takes matters of such unacceptable behavior in any form seriously.
arrow_upward