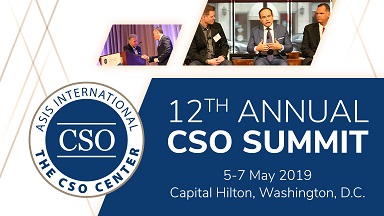 12th Annual CSO Summit
CSO Influence: Adding Value Across the Enterprise

location_on Washington, DC
The role of today's Chief Security Officer is changing in extraordinary ways. In addition to assessing risk across the enterprise and supply chain, it is essential for the CSO to engage and advise executive leaders on best practices and SOPs for business continuity and operational efficiency in all disciplines.
Join leading security executives from the largest and most influential organizations for three days of intensive idea sharing, problem solving, and relationship building you won't want to miss!
Available for download:
2019 Sponsorship Contract | 2019 Prospectus
This event is open only to CSO Center members and those who are eligible for membership.
REGISTRATION RATES
| | | |
| --- | --- | --- |
| | Early-Bird (5 April 2019) | Standard |
| CSO Member | $795 | $975 |
| Nonmember | $1,100 | $1,300 |
HOTEL
Capital Hilton
1001 16th St NW
Washington, DC 20036
For hotel reservations, book reservations online or contact the hotel directly at 1.800.HILTONS. To receive our special group rate of $249.00 per night (plus taxes and fees), use Group Code: ASIS and place your reservation by 3 April.
SCHEDULE AT A GLANCE
| | |
| --- | --- |
| Sunday, 5 May 2019 | |
| 4:00 pm | Registration and Info Desk Open |
| 6:00 – 7:30 pm | Opening Reception at the Capital Hilton |
| Monday, 6 May 2019 | |
| 7:00 am – 3:30 pm | Registration and Info Desk Open |
| 7:30 – 8:30 am | Continental breakfast |
| 8:30 – 9:00 am | Welcome from ASIS Leadership/CSO Summit Overview |
| 9:00 am – 4:00 pm | CSO Program |
| 5:30 – 8:00 pm | Reception and Evening Event (off-site) |
| Tuesday, 7 May 2019 | |
| 7:00 am – 3:00 pm | Info Desk Open |
| 7:30 – 8:30 am | Continental Breakfast |
| 8:30 – 9:00 am | Monday Takeaways |
| 9:00 – 3:00 pm | CSO Program |
| 3:00 pm | Adjourn |
CANCELLATION POLICY
To receive a refund, all cancellation requests must be made in writing and submitted to CSO Summit Registration at accounting@asisonline.org by April 26, 2019. Cancellations received after April 26 will be subject to a $100 administrative fee. No refunds will be given after the start of the event.
CSO SUMMIT POLICIES
By registering for CSO Summit, you consent to ASIS International's collection and storage of the data on the registration form.
Registration and attendance at or participation in ASIS International meetings and other activities constitutes an agreement by the registrant to ASIS's use and distribution (both now and in the future) of the attendee's image or voice in photographs, videotapes, electronic reproductions, or audiotapes of such.
By registering for 12th Annual CSO Summit, you agree that you have read and will follow the ASIS Code of Conduct. All attendees, presenters, exhibitors, sponsors, vendors, contractors, other service providers, and ASIS staff at our CSO Summit are required to adhere to the ASIS Code of Conduct.
QUESTIONS?
Regarding registration, please contact Member Services at asis@asisonline.org or 703.519.6200.
Regarding program content, speakers, and events, please contact Manuela Turner at manuela.turner@asisonline.org or +1.703.518.1509.
ASIS International Event Code of Conduct
ASIS International ("ASIS") is committed to providing a safe and welcoming experience for all event participants as defined below.

Any participant regardless of:
Race or ethnicity;
Disability;
Religion or political affiliation;
Gender, or gender identity or expression;
Sexual orientation; or
Any other distinguishing characteristic
should feel welcome and safe at any ASIS event.

Expected Behavior
This Code of Conduct applies to all event attendees, presenters, exhibitors, sponsors, vendors, contractors, other service providers, and ASIS staff ("participant") at any event, meeting, conference, forum, social event, or meeting-related event, including those sponsored by organizations other than ASIS but held in conjunction with ASIS events in which they participate (an "event"). As such, ASIS expects that participants at events will:
Remain positive and welcoming to others;
Recognize that an event is a place for diversity of thought, organization, and individuals;
Be inclusive of others;
Be alert and report any discriminatory, harassing, aggressive, or exclusionary behavior or speech immediately to the contacts set forth below;
Respect the specific rules and policies of the event; and
Otherwise uphold the reputation of ASIS
Unacceptable Behavior
Unacceptable behavior includes, but is not limited to:
Intimidating, threatening, harassing, abusive, discriminatory, derogatory, or demeaning conduct;
Inappropriate physical contact (e.g., unwelcome sexual advances, groping, sexual assault);
Physical stalking or written, verbal, or other abuse; or
Inappropriate use of nudity and/or sexual images or language in event presentations, or otherwise failing to obey any rules or policies of the venue or ASIS.

Whether such behavior constitutes unacceptable behavior as defined above shall be determined by ASIS and its representatives, in their sole discretion. ASIS takes matters of such unacceptable behavior in any form seriously.
arrow_upward