Review Preparation for the Physical Security Professional (PSP) Exam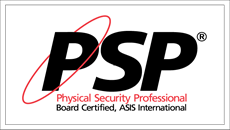 In-Person Class: The PSP Review Program is an accelerated review that provides a high-level overview of the security concepts and practices assessed on the PSP exam. This class enables individuals to identify areas of strength and weakness in the three key domains to develop a personalized study plan focused on the areas they need most. The PSP Review is intended to supplement your other exam preparation activities.
A curated set of materials to organize your study is included with your classroom materials. An assessment exam is given at the conclusion of the class to help identify areas for further study and gauge readiness to take the exam.
Virtual Study Group: This mixed media virtual solution offers the flexibility of online, 24/7 content consumption, with a weekly, instructor-led interactive webinar to keep everyone on track and to answer your questions. Learn how as well as what to study as you engage in interactive discussions, share tips and tools, and assess your readiness for the PSP exam.
The program contains 12 modules covering the PSP domains and reference materials. Individuals can review each module on their own, and then discuss the topics in a virtual but real-time environment during six live sessions. Get your questions answered and hear study tips in real time; take practice quizzes; and join a community of participants working through the material together, allowing you to draw on the expertise of others in the course.
Online Self-Paced Study (for the individual): The Physical Security Professional (PSP) Online Review is a comprehensive, interactive training tool designed to help the individual master key content areas covered on the PSP exam. The course consists of eight self-paced modules covering the core competencies of physical security tested on the PSP exam. Assessment questions help identify areas for further study and gauge readiness to take the exam.
Enrollment includes around-the-clock online access to course content for a full 12 months (365 days) from purchase. The convenience of on-demand training allows individuals to let personal schedules determine where and when to study.