Certificant Spotlight: Felix Giannini, CPP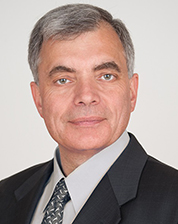 Aside from six years in the U.S. Navy and a short stint working for a marine electronics company, "I've been self-employed my whole life," says Felix Giannini, CPP, president of Lexco Security Systems in Fairfield, Connecticut. Intrigued by electronics as a teenager, he repaired audiovisual equipment and maintained a state-of-the-art video broadcast system while attending high school in Mamaroneck, New York. The two men who managed those operations had an alarm business on the side. "So in the 1970s I began installing security systems," Giannini recalls. "I was trained by workmanship fanatics," he says, "and that has influenced my whole career."
Instilling professional workmanship practices and standards within the security installer community is extremely important to Giannini. He believes that low standards—a lack of professional training among company owners, reduced educational requirements for licensed low-voltage electrical contractors, and scant funds for enforcement—lead to increased false alarms and a profession relegated to insignificance.
Giannini's company focuses on large commercial, industrial, and institutional systems in the United States and overseas. He works with clients not only as a systems integrator but also as a consulting engineer and project manager. In those roles, he is aware of the potential for conflicts of interest. "If I design and manage a project, I have no business also installing," he says. "The systems are designed and implemented in the best interests of the company, not the local vendors."
Giannini has been a member of ASIS for 33 years. He was inspired to become a Certified Protection Professional (CPP®) in the 1980s while working as a consulting engineer for the Pitney Bowes Corporation in Stamford, Connecticut. During that time, he also designed a video conference system between the Riker's Island Male House of Detention and the Bronx Criminal Court so hearings could be conducted over a microwave link. And he designed the first camera system for the Statue of Liberty.
Giannini earned a bachelor of science degree in fire protection systems engineering and is working on a master's in emergency management. He applies educational concepts to assessing a company's risks and hazards and designing mitigation strategies. "It's not about the systems we install," he says. "It's about the people, the programs, and the training."
As a CPP, Giannini earns respect from client companies. "It says that I have an awareness level and that I speak their language," he says. "It's not just about selling cameras and monitors…it's a much bigger picture and a lot more responsibility."
Giannini has been vice chair of the Southern Connecticut Chapter for five years. He is proud of his chapter affiliation and has been instrumental in attracting speakers on such topics as social media and personal branding. He also helped create the first ASIS "Sister Chapter" relationship between his chapter and ASIS Italy.
Being a member of ASIS has been an "incredible benefit," says Giannini, but not because he uses it as a vehicle to get work." I don't want to ever taint my membership," he says. "It's been an inspiration to be a professional, especially as a systems integrator."
---
Profile by Mary Alice Davidson, Principal, Davidson Communications.